A little bit of history about tea.
| | |
| --- | --- |
| Tea was first tasted in China in about 350 BC. Europeans heard about tea when Portuguese priests spreading Roman Catholicism through China tasteD tea and wrote about its medicinal and taste benefits. In the 1600s the Dutch bring back green tea from Japan (although some argue it was from China ). The Dutch East India Company was born to market tea all over Europe tea as an exotic medicinal drink, but it was so expensive only the aristocracy could afford the tea and its serving pieces. Our teashop is famous for the over 160 flavours of tea that we carry as well as tea pots , mugs and other accessories for the tea drinker. Some of the brands we carry are: Yorkshire, including Yorkshire gold and decaf,PG tips,Ty-Phoo, Scottish blend, Bewley's decaf blend, Glengettie (a favourite in Wales for generations), London cuppa, Nambarrie, a wide selection of Metropolitan teas, Taylors of Harrogate, Travel by book mugs, and of course old favourites like Horlicks, Ovaltine and Camp Coffee. | |
English bone china is becoming more and more difficult to find, but don't worry, here at dickens we have just purchased a large supply. A variety of designs all original and in stock now, the biggest supply in the Fraser Valley, some of them are quite rare and are collector peices. Come down to Dickens and perouse our inventory and have a cup of tea in Oliver's Tea Rooms while you are here.

We also carry Henley tea pots and Brown Betty Teapots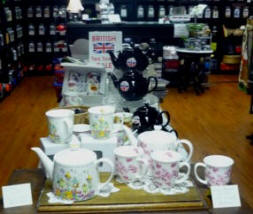 You will find the right gift in our tea shop for the tea lover or even for yourself !
Dickens Sweets & Museum is located at

45945 Alexander Avenue, Chilliwack, B.C.

Our store hours are 9.00 am - 5.00 pm Monday to Saturday closed Sunday and statutory holidays. Oliver's Tearoom is open 9.00 am - 4.30 pm. For more information on the sweetshop please call: 604.793.1981. To order from the bakery or make reservations for Oliver's tearoom please call: 604. 703.1981.
LOTS OF FREE PARKING !
(c) Dickens Sweets 2019 Website by Corium-art
This webpage is protected by copyright. No reproduction is permitted
without the written consent of Corium-arts and Dickens Sweets.